Knit Camisole (Smokey Plum)
Knit Camisole (Smokey Plum)
---
Release Date

発売日

- 2020/06/18

Made in Toyama Japan

日本産 (富山)
---
---
ずっと前に開発で作った試作を挽回。このニットキャミソールはご覧の通りかなりデリケートな作りに。もっと頑丈なトップスが欲しければ
ヘンリーキャミソール
の方をお勧めします。このニットキャミのストラップはかなり薄いので、引っ張ったりしないでください。
綿の強撚糸。糸に細かい凹凸がある形状の為、肌に触れる面積が減り、まとわりつきません。風を通しやすく、サラッとした快適な着心地は春夏素材に最適です。
撚りを多く加えているので、シワになりにくく、扱いやすい素材です。S〜Mスムーズ胸にはよくに似合いますが、Lも入れると思います。富山産。
Before we even started on the
Baggy Knit Cardigan
, we actually first made a prototype of this knit camisole. When I first saw it I was concerned at how thin the straps were so rejected the idea where it sat on the shelf - in the meantime we proceeded to develop the Knit Cardigan.
As the sun started to come out to play more often, I wanted to re-explore the possibility of the knit camisole so the first thing we did was to make the straps thicker. We made a few prototypes where the straps went from practically being a string to what you see in the photos.
The straps are still thin and due to the nature of knit, this camisole does feel somewhat fragile but once its on the Smart Doll - mamamia it looks just gorgeous! Especially with either the Small or Medium Smooth busts. I've not tried it with large Smooth but it will probably stretch to fit.
A few notes to take into consideration before buying.
This is a delicate garment which must be handled with care - if you tug hard on the straps they could become undone and unless you are a dab hand at sewing, you won't be able to fix it and we won't fix it for you either. If you prefer a rough n tough n tumble camisole then go for the Henley Camisole.
When dressing your Smart Doll, do so in slow motion - you don't want to get a finger (of your Smart Doll) caught in the camisole where you may stretch it - the camisole I mean and not your finger.
Do not wash it as it may shrink - use Febreeze instead.
The camisole is thin and you can just about see the skin color through it. You can certainly see the end of the black label through it.
There maybe a couple of loose threads which we purposely didn't cut as they may cause the knit to fray away.
Remember that this is a delicate item that should be treated with care.
Shoulder straps may occasionally fall off the shoulder.
The camisole features a design that has a pattern of holes - these holes won't all be of uniform size. Please expect the way this has been knitted to turn out asymmetric.
Folks who prefer their products to be perfect should instead go to YouTube and search for "Never Gonna Give You Up."
Specs are 12 gauge x 1 ply and the yarn is made from 100% cotton of a type called "Curious." The knit is done in a way so that the surface area that touches the skin is reduced which enables the Smart Doll wearing it to feel a cool breeze - great for those warm sunny days ;-) Made in Toyama Japan.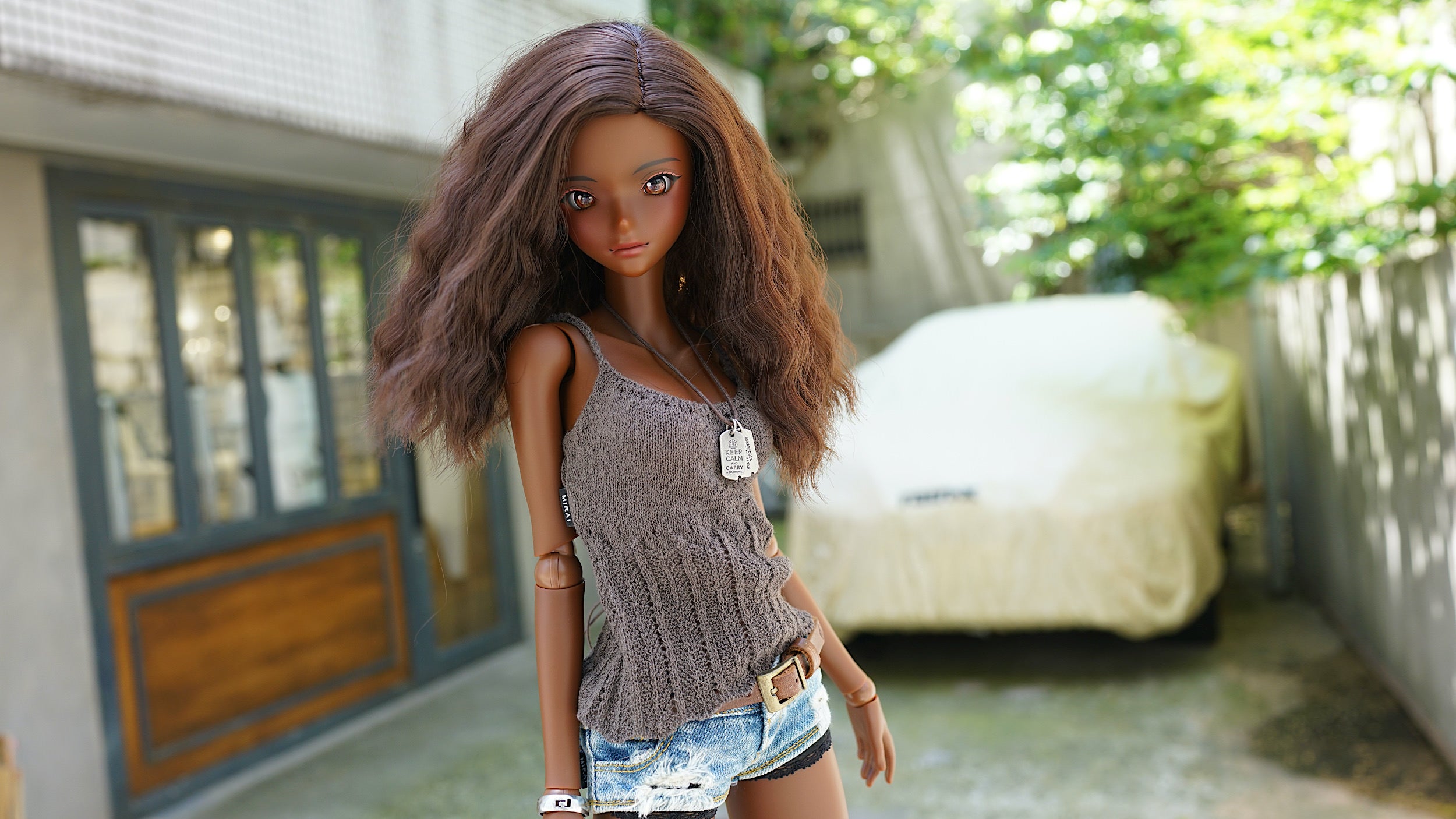 Knit Camisole (Smokey Plum)
Knit Camisole (Smokey Plum)
---