Tokyo Short Jeans
Tokyo Short Jeans
---
Shipped out from Tokyo within 15 business days

15営業日以内に発送 (送料日本全国一律)

Release Date

発売日

- 2020/05/11

Made in Tokyo/Okayama Japan

日本産 (東京・岡山)
---
本体の縫製は東京、ウォッシュ加工、ダメージ加工、オーバーダイ加工、色止め加工は岡山。もともとは「トウキョウオカヤマショートジーンズ」と名付けようとしましたが、外国の方には発音しにくいので「トウキョウショートジーンズ」で行きます。

一枚一枚人間の手で加工しているので唯一無二の体験を期待ください。白いの横糸の数はランダムになります。ダメージ後にウォッシュ加工しているため、手元に届いたら横糸は全部ほつれているかもしれない。完璧主義者は是非ご購入を控えくださいね。ベルトや壁、人形などはついていません。
According to Google-sensei, "Ripped Jeans," "Distressed Jeans," "Torn Jeans" are the types of names given to this type of garment but we decided to call them Tokyo Jeans because they are stitched in Tokyo. They are however also sent to Okayama where they are then laser etched for the whiskers, manually ripped and then stone and bio washed, dyed once more to give them a brown/yellowish worn look and then all topped off with color fixing agent. The jeans are then sent back to our studio in Tokyo where we do QC before packing them.
They were originally going to be called "Tokyo Okayama Short Jeans" but we thought that would be a mouthful so opted just for "Tokyo Short Jeans."

For many years I didn't fancy making ripped jeans as I knew there would be quite a number of folks moaning that the rips were not even/didn't have the same amount of laddering etc. But I really wanted some for my girls so we started to prototype for quite a few moons - the results look great! The next thing to do is to set expectations for folks who may want them too. 

The rips in the jeans are done by humans - no two pairs will look alike.
Photos are sampled from the actual product - as you can see they look different but similar ;-)
There are two large rips - one on the left and one on the right - folks should do not expect the holes to look exactly the same with the exact number of threads fraying at the exact same height across jeans.
While we have tried to leave some laddering in the rips, as the jeans are given a stone wash after, the laddering may fray away and leave a gaping hole by the time we receive and pack them.
The more your Smart Doll wears these jeans, the laddering may rip until they eventually leave a gaping hole. When sliding the legs through the jeans, do so slowly so that you don't get the feet caught in the hole.
Did I forget to mention that the laddering in the rip will not look uniform across jeans and that they may all be frayed by the time the item is packed?
Holes in the jeans without laddering are not considered faulty - folks who do not agree should go to YouTube and search for "never gonna give you up."
Loose threads hanging off the rips won't all be of uniform length - the ones on the right hole may be longer than the left hole.
We do not accept requests to pick out a perfect pair.
As with all our jeans, movement around the waist may be restricted and cause your smart doll to lean back slightly when they are seated. Your Smart Doll may also show some of their botty when seated unless they are wearing the stain prevention shorts or stockings to hide the kraken.
We recommend the use of stain prevention leggings with this item. Will also look good with the stockings that will be out soon.

Belt, Smart Dolls, apparel, streets, sky, buildings and the vending machine pictured in the photos are not included.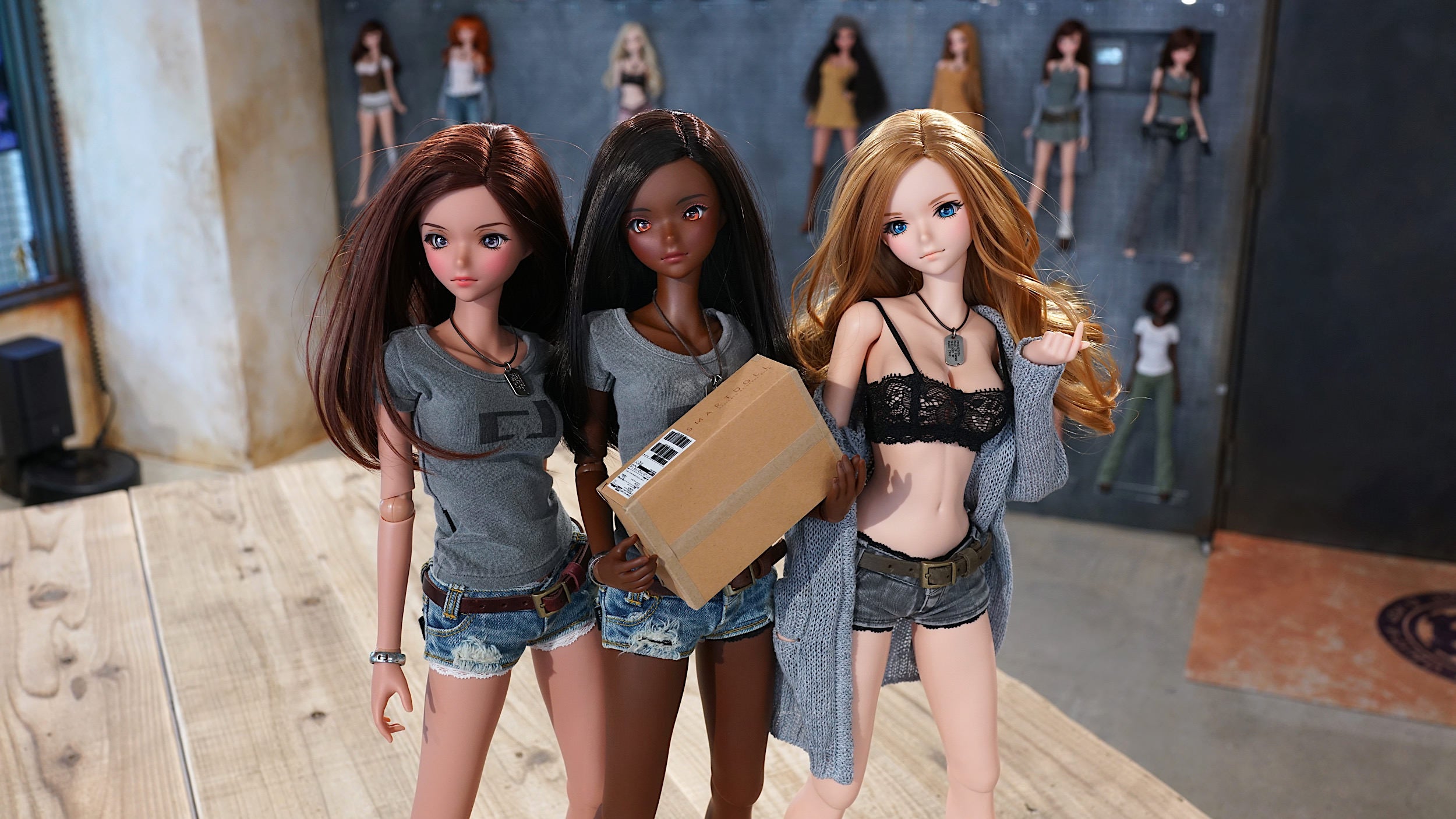 Tokyo Short Jeans
Tokyo Short Jeans
---
Customer photos from Instagram #smartdoll

ユーザーのインスタ写真 #smartdoll

#smartdollbottoms Tag your photos on Instagram with #smartdollbottoms and they may just end up here. Tag your photos on Instagram with #smartdollbottoms and they may just end up here.