Smart Doll
Lelouch Lamperouge (2017 Release)
Smart Doll
Lelouch Lamperouge (2017 Release)
---
Release Date

発売日

- 2017-10-16

Made in Tokyo Japan

日本産 (東京)

This skin tone is

この肌色は

MILK

MILK
---
ABOUT THE PRODUCT
Lelouch Lamperouge is the hero of the worldwide hit anime series Code Geass and now for the first time ever as a 60cm tall fashion doll.
Lelouch comes in 2 flavors - Default and Deluxe. The Default Edition comes with his "Geass Eye Expression" head - the left eye is the Geass eye while his right eye is his normal eye.

In addition to the "Geass Eye Expression" head - the Deluxe Edition comes with Lelouch's "Smile Expression" head where he has a cute smile (or so I have been told) where both of his eyes are normal (non Geass). 
Both Default and Deluxe comes with 1 body (new slim type), 2 wigs (one for styling and one for running your fingers through), one telescopic stand, Ashford Academy boys uniform (jacket & trousers), 1 pair of shoes and a pair of leggings with neck sleeve as a color staining prevention measure.
Just to clarify again - the Deluxe Edition only comes with 1 body. The Default Edition *does not* come with the Smile Expression head.
ABOUT PRE-ORDERS & SHIPPING
Quantities are limited and once the limit has been met then the pre-order period will end - if you want him then order as soon as you can.
Shipping is scheduled to start on 2017 October 16th and may take up until end of December depending on how fast you was able to checkout. However depending on the production line, we may be able to start shipping before October 16th. We make and ship the product from Japan.
Because this is a licensed product, we cant process any refunds unless the product is faulty - please take note when ordering. if this is not cool then refrain from purchasing or wait for reviews - but then again it may be too late.
Do note that anything you order with Lelouch will be shipped together with him when he is ready for shipping.

Take note that we take payment at time of pre-order. If you are in Japan and choose bank transfer as a method of payment - please pay within 3 days of ordering or the system will think you are a troll and automatically cancel and restock.
THINGS YOU SHOULD KNOW ABOUT THE PRODUCT
Lelouch comes with leggings and a neck sleeve as a color staining measure but there is nothing on the *outside* surface of the jacket and trousers to prevent staining - which *may* occur if his hand is in contact with the surface for prolonged periods.

Take note that the wig in these product photos has been set with some styling spray - they do not arrive styled - feel free to style the wig as you see fit. Use these photos as a reference. I have included 2 wigs in both the Default & Deluxe packages - one to style and one to run your fingers through and pat.
Here is the wig styling video!
ABOUT PRODUCTION
Smart Doll is hand made in Japan - the frame in Yamagata Shinjo, Shell parts in Katsushika Tokyo, Assembly and QC in Gotanda Tokyo while apparel is made in Kyushu and Tokyo. 
Comes with 1 year warranty (because we believe in our product).
THINGS THAT GO WELL WITH LELOUCH
Lelouch comes with a pair of default hands but having the option hand set will give you a wider variety of poses that you can do.
If you want Lelouch to help charge your gadgets then you will want the USB Hub too. If you are going for the Deluxe Edition and want a body for the extra head then you may want to buy an extra Slim Body.
©SUNRISE/PROJECT L-GEASS Character Design ©2006-2017 CLAMP・ST
©S/PLG CD©C・S
商品について
国内外の人気アニメタイトル「コードギアス 反逆のルルーシュ」の主人公である「ルルーシュ・ランペルージ」がファッションドール「スマートドール」になって登場。
ルルーシュは内容の異なる2種類のセットで展開しています。
通常版 (DEFAULT EDITION) は「ギアスアイ顔」1個が付属。
豪華版 (DELUXE EDITION) は通常版に付属する「ギアスアイ顔」に加えて「スマイル顔」が付属するヘッド2個セットのスペシャルバージョンです。※通常版にはスマイル顔は付属しません。

通常版、豪華版に付属する「ギアスアイ顔」にセットされているアイは左ギアス発動アイ、右通常アイ。
豪華版に付属する「スマイル顔」にセットされているアイは両目通常アイ(ギアス発動していない状態)。
両セットには、スマートドール男子ボディー新スリムタイプ x 1、ウィッグ x 2 (スタイリング用となでなで用)、伸縮スタンド、アッシュフォード学園 男子制服のジャケットとズボン、色移り対策用のレギンスとネックスリーブと靴が付属。
注意事項 : 通常版でも豪華版でも、ボディーは1体しか付いていません。通常版にはスマイル顔は付属しません。
予約と発送について
この商品は、今回の生産準備数に限りがあります。準備数量に達し次第、ご予約お申込み受付を終了とさせていただきます。欲しい方は早めに予約を!

発送は2017/10/16から開始する予定ですが、先着順により発送は2017/12末までかかるかもしれません。生産ラインの状況により2017/10/16より前に発送することもあります。
ライセンス商品はキャンセルできませんので、ご注文の際はご注意頂きますようお願い致します。
予約と同時購入されたアクセサリーやアパレルはルルーシュ本体と一緒に発送します。
ミライストアでの予約は受け付けていない。このページで予約してください。
予約した時点で決済が行われます。銀行振込の方は予約してから3日以内で入金お願いします。入金が3日以内に確認取れなければシステムの自動防御装置が作動し、注文はキャンセルされてしまいます。

商品は日本国内生産、東京のミライストアから発送しています。
商品仕様について
商品写真のウィッグは市販されている整髪料でスタイリングした物です。ウィッグは写真のままでは出荷していません。これらの商品写真を参考にしながら、お客様のお好みのスタイルにアレンジする事が出来ます。ウィッグは2個をお付けします。スタイリング用となでなで用。
制服の内側の色移り防止対策はとっていますが、外側は黒い生地の為、色移りする可能性がございます。手を制服の外側に接触したまま長時間置く等、ドールの肌が制服表面に長時間触れたままになった場合、色が移るかもしれませんのでご注意ください。
生産について
スマートドールは日本国内で生産しています。骨格成形は山形新庄、外皮成形は葛飾区、組み立ては東京五反田。制服は東京中野区と福岡県で生産しています。制服の量産は婦人ブランド「ジュンアシダ」などの量産を手掛けている東京の中野にある「辻洋装店」にお願いしました。フットウェアは靴デザイナージミー・チュー氏に監修していただきました。
1年間保証付帯(品質へのこだわりと自信があるからこそ、1年間の製品保証が付帯している)
ルルーシュに似合う商品について
ルルーシュはデフォルトの手パーツが付属していますが、オプションハンドセットをご購入することにより、より豊富な表現はできます。
ルルーシュ君を経費に出したいあなた。USB胴体ハブをご一緒に購入することにより、上司に「仕事に必要です」と言い切れるかもしれません。
豪華版をご購入の方はヘッドが二つ付くので、もう一つの男子素体スリムタイプをご購入するとルルーシュが二人も?!

商品写真に写っている壁やエアコン、階段、空など商品以外のものは付いていません。

©SUNRISE/PROJECT L-GEASS Character Design ©2006-2017 CLAMP・ST 
©S/PLG CD©C・S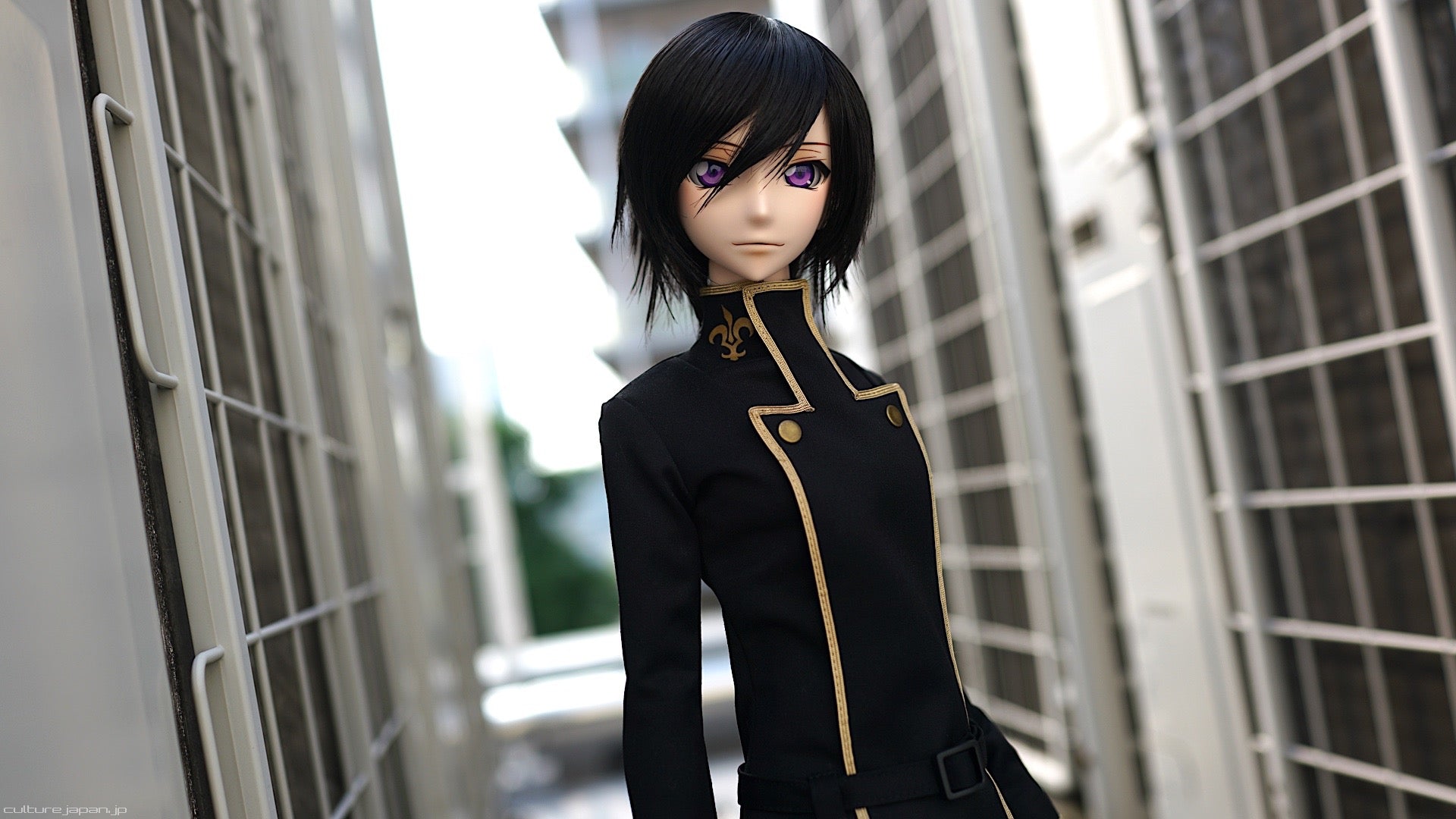 Smart Doll - Lelouch Lamperouge (2017 Release)
Smart Doll - Lelouch Lamperouge (2017 Release)
---