Smart Doll
Valiant (semi-real) (classic)
Smart Doll
Valiant (semi-real) (classic)
---
Release Date

発売日

- 2021/06/02

Made in Tokyo Japan

日本産 (東京)

This skin tone is

この肌色は

CINNAMON

CINNAMON
---
Valiant now comes with the Parting Long Ash wig.
Valiant now comes with the Parting Long Ash wig.
Introduction
Born with a birthmark on the right side of her face, Valiant was constantly teased as a child and as a teenager. Made to feel ashamed of what she was, Valiant today lives a life liberated from the shackles of trying to please others and worrying about what society thinks.
No more does she spend time trying to cover up the mark with make up each morning - she lives a life being herself and spends time with those who love her for who she is. But the path to this bravery was not an easy one…

The simple act of walking along the corridor to class had always been a difficult experience for Valiant.
"Hey what's that thing on your face?"
"Who beat you up?"
"Did you fall over?"
"My sister knows a good butcher who can help remove that."

Valiant had never seen anybody like herself. Through the verbal abuse that she was subjected to during her entire schooling life, she would very often look at her reflection and slam her fists on the mirror - "Why do I look like this! Why me?!" Valiant's eyes would well up with tears of sadness while her reflection slowly becomes a blur…

On the way to class one day Valiant was stopped by Davina - the resident school bully.
"Hey Valiant! Not so fast, let's have a closer look" says Davina while grabbing Valiant by the chin.
"Good job on covering up that mark! Now everybody can eat their lunch without feeling sick. You can go now. Oh wait - I reckon you owe me…how about 10 quid for giving you advice to cover up that thing on your face. People will start to like you now you know?"
"I guess you are right, thanks Davina…" said Valiant in a quiet tone as she handed over the money.

Davina had always felt pleased with herself who always went out of her way to make it known that she was the one that got Valiant to cover up her birthmark. "I bet she takes at least an hour each day covering up that thing" Davina would boast to her posse as they loitered on the school grounds bunking off class as usual.

For the next few years in high school, Valiant continued to spend time trying to cover up the right side of her face with makeup. While her birthmark still showed slightly below the makeup, she wasn't bullied as much anymore. Valiant hated that she had to change herself just to be accepted at school.

The sun was about to set as Valiant looked across the River Thames. She was looking for inspiration for her graduation speech which was next week but the usual thoughts were running through her mind - "what was the meaning of all this?"

"Excuse me, you dropped your phone"
Valiant turned around to see who it was.

"Oh! Thank…. you?"
Valiant was lost for words as she looked at the lady handing back her phone. Valiant musters the strength to speak…

"Oh sorry! I just have never… seen anybody look like me before."

"Don't worry luv! Here, take your phone before I keep it. Look atcha, you remind me of me when I was younger. It's getting chilly, you fancy a cuppa? I think there maybe a few things I can share with you. You had that what's-the-meaning-of-all-this look on your face" (giggles).

"Ah! Um!" blushes Valiant.

"I'm Courage - and you must be?"

"V, Valiant…"

"Nice name! Let's put you back on track to live up to your name" says Courage in her strong cockney accent.

We see Valiant and Courage chatting as they walk along the Thames towards Westminister. A flock of seagulls fly overhead as the chilly evening breeze blows back Courage's hair to reveal her facial birthmark which is a similar shape and size to Valiant's one.

"I don't normally walk off with strangers but I feel we somehow know each other? I've never seen anybody like myself so what are the chances that I would meet somebody like you on an evening like this?" quizzes Valiant.

"Lets just say I have a good friend called Destiny"

Valiant smiles - "The next thing you're going to say is that it's the same Destiny from the show 'Destiny - Past & Beyond' !"

"I was actually!" laughs Courage.

Later that week, we see Valiant backstage standing by the curtains. The hall fell silent but one could hear giggling in anticipation of Valiant coming on stage to give her graduation speech - it was Davina and her posse. Davina then stopped giggling and raises her voice in disbelief "What the?!"

Valiant walks on stage in large confident strides but this time we see the real Valiant - the Valiant without makeup hiding her birthmark.
Valiant clears her dry throat.

"The title of my talk is called… Finding Courage.

Our ancestors have evolved over millions of years roaming the Earth as hunter gatherers. We evolved many behaviors that increased our chances of survival. One of the key's to the success of humanity is that we evolved the ability to cooperate with each other. Cooperation meant that we could start to live specialized lives. For example, one person specializes in hunting, one in gathering, one in cooking, one in making clothing to keep us warm and so on.

As we started to cooperate with each other and live in larger groups, it was in our benefit to care about what others thought about us. Those who behaved brave and strong were more likely to attract a mate and thus pass on their genes. If we behaved in a manner that would be frowned upon then we would have been banished from the group which would have meant certain death. So you see it was very important that we evolved the behavior of caring about what others thought of us - it gave us a survival advantage just like the other innate behaviors that are hardwired into our DNA such as the fight-or-flight response.

However, while caring about others think helped us survive until today, this hardwired behaviour is now more of a survival disadvantage in todays society.

I was born with what's known as a Port Wine Stain on my face. Between 3 and 5 children out of a thousand are born with this birthmark which is caused by a genetic mutation. The mutation causes blood capillaries to be overly dilated where blood accumulates in them giving the skin surface its port wine color.
Ever since I was little, I was made to feel ashamed of myself for having this mark which I have been hiding with makeup for the past few years. Today I made the decision to hide it no more and to instead live life for what I am and not what others want me to be.

Even if you don't have a birthmark, I am sure you can relate to my story. Because humans are hardwired, I know there are people around you who would rather you live the way they prefer. They want you to dress a certain way, talk a certain way and behave in a certain way.

We still don't know why humans dream but I think its because dreams serve as a reminder that we should take the "caring what others think" in moderation. I'm not saying that we shouldn't care at all and run around naked but am saying that you got to ask yourself - Was I really born just to live the life of others?

Decisions we make in life are most likely to be dictated by what others and society thinks of us - we are hardwired to think this way and society has molded us to be like this - but humans were born with a conscious that can re-wire the way we think so that we can choose to find the courage to live our own lives and pursue our dreams.

Thank you."

Silence falls upon the hall until a member of Davina's posse stands up and starts to clap. The rest of Davina's posse are now also standing and clapping and soon the whole audience are on their feet. The roar of applause and cheering can be heard across the school grounds.

Valiants eyes start to well up with tears but this time its tears of joy as she looks to the side of the stage where Courage is standing smiling back.

Davina grits her teeth and runs out the hall red faced clenching her fists.
It seems that those who laugh last really do laugh the longest.
A few things to note about the birthmark on the body
The edges of the birthmark may be a mixture of both crisp and fuzzy. There may be specs of dust or lint caught beneath the surface as we do not have any airtight working spaces but - we are currently in talks with Elon Musk to loan us one of his SpaceX ships to use as a spraying booth.

The texture of the vinyl for the arm, head and bust is different - do not expect an exact color match between all three components. There are no plans to add birthmarks to other body parts or other bust sizes.

For folks who currently own Valiant without the birthmark bust and arm - I'm currently trying to figure out a workflow to sell separately but I need some time. While we can sell the new Valiant at no extra cost, we cant provide the bust or upper arm for free to existing customers - nor can we paint them at request.
紹介
生まれつき顔の右側に母斑があったため、ヴァリアントは子どもの頃や10代の頃、いつもいじめられた。かつては自分自身を恥ずかしいと感じていたヴァリアントだが、現在の彼女は他人を喜ばせようとしたり、社会がどう考えるかを気にかけたりといった束縛からは解放された人生を送っている。
彼女が毎朝母斑を隠そうと化粧に時間をかけることはもうない。彼女は自分らしい人生を送り、ありのままの彼女を愛してくれる人達とともに時を過ごしている。だが、この「勇気」への道のりは生易しいものではなかった…。

授業に向かうために廊下を歩くという何てことないような行為すら、ヴァリアントにとっては大変なことだった。
「ねぇ、顔に何つけてるの?」
「誰に殴られたの?」
「転んじゃったの?」
「私のお姉ちゃんが、顔のそれを切ってくれる腕の良いお肉屋さんを知ってるって。」

ヴァリアントは自分と同じような人に会ったことがなかった。学校に通い始めてからずっと続いた言葉の暴力のせいで、ヴァリアントはよく鏡に映った自身の姿を見て、「なぜ私はこんな見た目に生まれたの!なぜ私がこんな目に?!」と鏡に拳を打ちつけた。ヴァリアントの目には悲しみの涙が込み上げ、鏡の中の彼女はゆっくりとかすんでいくのだった…

ある日、授業に向かっていたヴァリアントはダヴィナに呼び止められた。学校一のいじめっ子だ。
ダヴィナは「ちょっとヴァリアント!待ちなさいよ。近くでよーく見てあげる」と言うと、ヴァリアントの顎を掴んだ。そして、「顔の跡、うまく隠せてるじゃない!これでみんな気持ち悪くなることなくお昼を食べられるわ。もう行っていいわよ。あ、待って。あんた、私に借りがあるよね。顔のそれを隠すようにアドバイスしてあげたんだから、私に10ポンドよこしなさいよ。これでやっとあんたにも友達ができるかもしれないのよ?」と続けた。
ヴァリアントは静かに「そうね。ありがとう、ダヴィナ…」と言うと、ダヴィナにお金を渡した。

ダヴィナは、ヴァリアントが顔の母斑を隠すようになったのは自分のおかげだと、いつだってわざわざ周囲に知らせては満足していた。そして、いつものように授業をさぼって校庭にたむろする仲間に、「あの子、顔のアレを隠すのに毎朝1時間はかけているはずよ」と満足げに話すのだった。

それから数年続いた高校生活の間、ヴァリアントは顔の右側を化粧で隠すことに時間を費やし続けた。母斑はそれでも化粧の下にうっすらと見えたが、昔ほどいじめられることはなくなっていた。学校で受け入れられる為だけに自分らしさを隠さないといけないことが、ヴァリアントは嫌でたまらなかった。

太陽が沈みかけた頃、ヴァリアントはテムズ川の向こう側を眺めていた。来週行われる卒業式でのスピーチの参考になるようなインスピレーションを探していたのだが、「これに何の意味があったというの?」という、いつもと変わらない思いが彼女の心を駆け巡っていた。

「すみません、携帯を落としましたよ。」
この声の主の姿を見ようと、ヴァリアントは振り返った。

「あら!ありがとうござ…います?」
自分に携帯を差し出す人物を見て、ヴァリアントは言葉を失ってしまった。ヴァリアントは力を振り絞って口を開いた…

「あの、ごめんなさい!自分と同じような人を見たことがなかったので。」

「気にしないで!ほら、あなたの携帯。早くしないと私がもらっちゃうよ。ちょっと見てよ、あなたを見てると昔の自分を思い出すわ。冷えてきたわね。お茶でもしない?少しは私があなたに伝えられることがあると思うの。あなた、『これに何の意味があるの?』って顔してたからさ。 (笑)」

「ええと、その!」と言うヴァリアントの顔が赤く染まる。

「私はカレッジ (COURAGE)。あなたは?」

「ヴァ、ヴァリアントです…」

「素敵な名前じゃない!名前負けしないように生きていかなきゃね」と、カレッジは強いコックニー訛りで言った。

ヴァリアントとカレッジがお喋りをしながら、テムズ川沿いをウェストミンスターへと向かって歩いていく。カモメの群れが空を舞う中、冷たい夜風がカレッジの髪を後ろへとなびかせ、その顔にあるヴァリアントのものと同じような形と大きさをした母斑をあらわにした。

「普段は見ず知らずの人についていくようなことはないのですが、あなたのことは前から知っていたような気がするんです。これまで自分と同じような外見をした人なんて見たことなかったのに、こんな夜にあなたみたいな人に出会うなんて、どんな確率なんでしょうね?」と、ヴァリアントがカレッジに尋ねた。

「まあ、私にはデスティニーっていう名前のとっても素敵な友達がいるとだけ言っておくわ。」

ヴァリアントの顔に笑みがこぼれる。「『Destiny – Past & Beyond』のデスティニーって言うんでしょ!」

カレッジは「その通りっ!」と笑った。

それから数日後、ヴァリアントは緞帳が下りた舞台の上に立っていた。会場は静まり返っているが、卒業のスピーチを行うヴァリアントの登場を待ち構えるクスクスという笑い声が聞こえてくる。ダヴィナとその取り巻きたちだ。ダヴィナはクスクス笑いを止めると、驚きのあまり、「一体どういうこと?!」と大きな声を上げた。

ヴァリアントが舞台の上を堂々と進んでいく。今日のヴァリアントは、偽りのないありのままの姿だ。その顔に母斑を隠すための化粧は見当たらない。
ヴァリアントは乾いた喉を咳払いした。

「私のスピーチのタイトルは… カレッジ(勇気)を見つけること、です。

私たちの祖先は狩猟採集民として地球を放浪し、何百万年という年月をかけて進化を遂げてきました。そして、生存確立を上げることを目的とした多くの行動を編み出しました。私たちはお互いに協力し合う術を身に付けましたが、これは人類の繁栄に欠かせないものの1つです。協力し合うことで、例えば、狩猟をする人、採集をする人、調理をする人、または身体を温かく保つための服を作る人といったように、私たち人間はそれぞれが1つのことに専念しながら生活できるようになりました。

協力し合ってより大きな集団で生活していくにあたり、他者が自分のことをどう思っているのかに気を配ることは大切なことでした。勇敢でたくましい振る舞いをする者にはより多くの異性が集まり、より高い確率で自分の子孫を残すことができました。もし他者の顰蹙を買うような行動をとれば集団からは追放され、それは間違いなく死に繋がったでしょう。したがって、他者が自分のことをどう思っているのかを気にするという行為は、極めて重要なことでした。生き延びる為の術だったのです。闘争・逃走本能といった、私たちのDNAに組み込まれた生まれ持っての行為と何ら変わりません。

しかし、これまでは生き延びるうえでプラスとなってきた他者の視線を気にするという本能的な行為も、今日の社会で生き残るにはむしろマイナスに作用します。

私の顔には、ポートワイン母斑と呼ばれる生まれつきのあざがあります。1000人のうち3人から5人の赤ちゃんが、遺伝子の変異によって起こるこの母斑を持って生まれてきます。毛細血管が異常に拡張することで、血液が溜まった部分の皮膚の表面がポートワインのような色になります。
私は小さな頃からこの母斑を持っていることを恥ずかしく思い、これまでの数年間はずっと化粧で隠してきました。でも、もうこれ以上隠さずに、これからは他の人がどう感じるのかではなく、自分らしく生きていこうと、今日、心に決めました。

もしあなたに母斑がなかったとしても、私の話に共感できるはずです。私たち人間には先に述べたような生来の本能があり、あなたの周りにもあなたがどのように生きていくか、自分の理想を押し付けてくる人がいると思います。そういう人たちはあなたにこういう服を着るべきだ、こういう話し方をするべきだ、こういう風に振る舞うべきだと言ってくることでしょう。

人間が夢を見る理由はまだ解明されていませんが、私は、夢は、「周りの視線を気にする」という行為をほどほどにしておくべきだと私たちに思い出させてくれるものだと考えています。全く他人の目を気にせずに裸で走り周れと言っているわけではありません。しかし、自分自身に問わなければなりません。自分は他人の人生を生きるために生まれてきたのか、と。

私たちが日々の生活の中でくだす決断は、他の人や社会が自分のことをどう思っているのかに左右されているはずです。私たちはこのような思考回路を持って生まれ、また、社会も私たちをそのような型にはめ込んできました。しかし、人間はまた、意識を持って生まれてきます。この意識があるからこそ私たちは考え方を変えることができ、自分らしく人生を歩み、自らの夢を追いかける勇気を見つけられるのです。

ありがとうございました。」

会場を包む静寂を破ったのは、ダヴィナの取り巻きの1人だった。彼女は立ち上がると拍手を始めた。その他の取り巻きが彼女に続く。それがやがて会場の全員へと広がるまでに時間はかからなかった。ヴァリアントへの喝采と応援の声が学校の校庭中に響き渡った。

舞台の袖で微笑むカレッジの姿を見たヴァリアントの目に涙が浮かぶ。しかし、今日は喜びの涙だ。

ダヴィナは歯を食いしばると、拳を固く握って真っ赤な顔をして会場から走り去っていった。
最後に笑う者が最もよく笑うというのは、どうやら本当のようだ。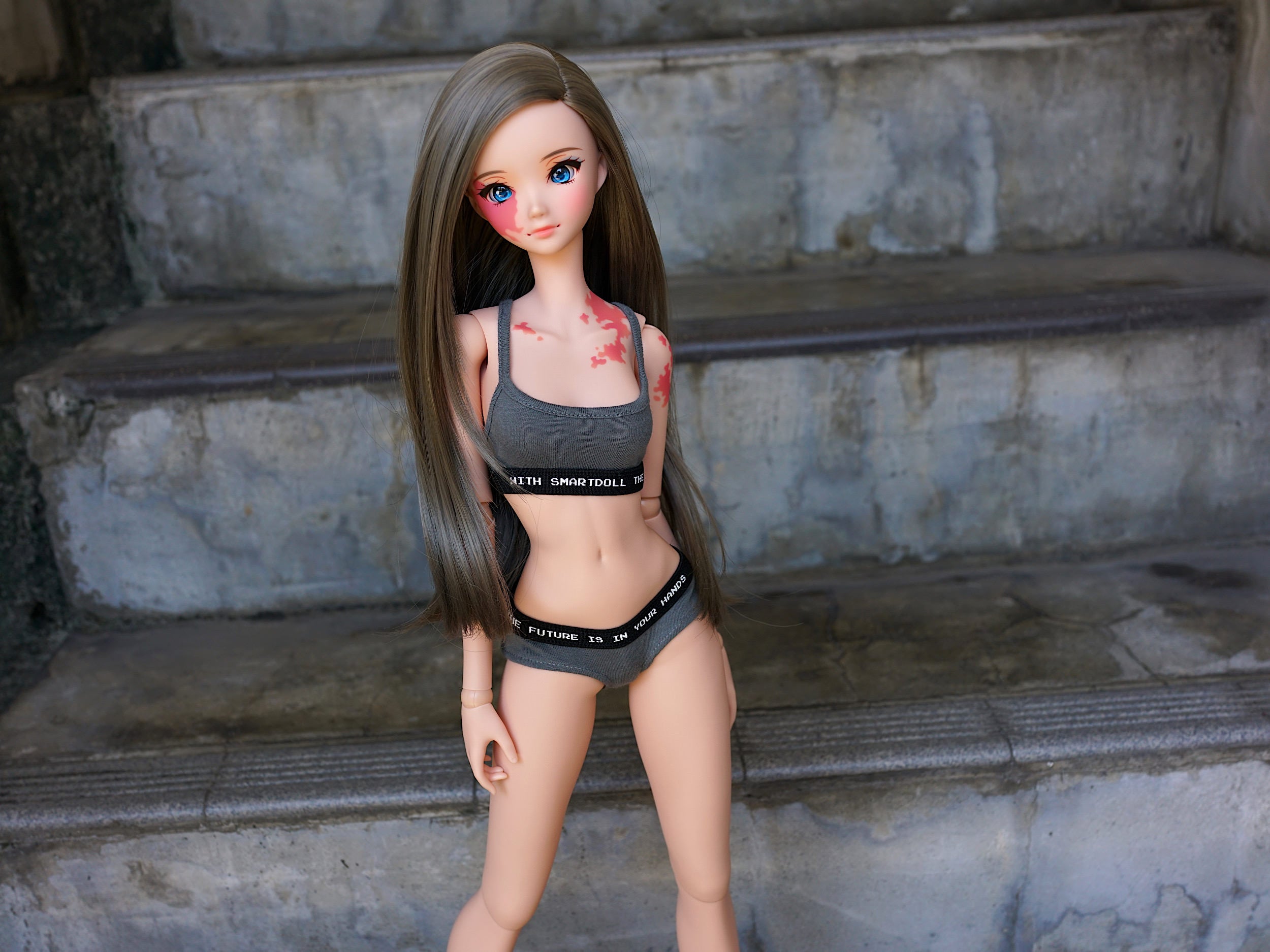 Smart Doll - Valiant (semi-real) (classic)
Smart Doll - Valiant (semi-real) (classic)
---