Split Bell Bottoms (Floral Tangerine)
Split Bell Bottoms (Floral Tangerine)
---
Release Date

発売日

- 2019/07/31

Made in Tokyo Japan

日本産 (東京)
---
---
During secondary school back in London, I clearly remember sitting at a table where a bunch of other kids next to me pointed at my bell bottoms and started to giggle. I shifted my feet in a way so that the flairs were not that noticeable but distinctly remember feeling embarrassed.
Research shows that we remember events better through emotion. This is why the happy and sad memories are more sticky than non emotional events.
While I felt embarrassed back then for being laughed at for what I wore, today, caring about what others think never shows up on my radar and I actively encourage others to wear what they want and not what others want them to wear. Life is far too short to live the life of others.
While I realize they are not everybody's cuppa tea, I love bell bottoms (also known as boot cut or flairs) as I feel that they bring out the curves on the Smart Doll body going from wide hip to thin knee to wide boot.
The Hiroshima Jeans are a lovely pair of bell bottom jeans but I wanted a pair that you would be able to customize yourself somehow - and thus the Split Bell Bottoms were born. These come with Floral Tangerine "inner bells" that you wear on the shins after putting on the jeans.
There is a link below where you can download the pattern to make your own inner bells in fabric of your choice if you want - make for yourself or even sell them - we take no fees and no permission needed. Go to the Learning Hub to find out more about terms and usage of this and other free patterns. When you have made cool stuff feel free to post it on this page. The jeans are made in Tokyo and the included floral inner bells in Kyushu Japan.
These Split Bell Bottoms go particularly well with (surprise surprise) the Shirred Blouse (Floral Tangerine) that you can see in these photos.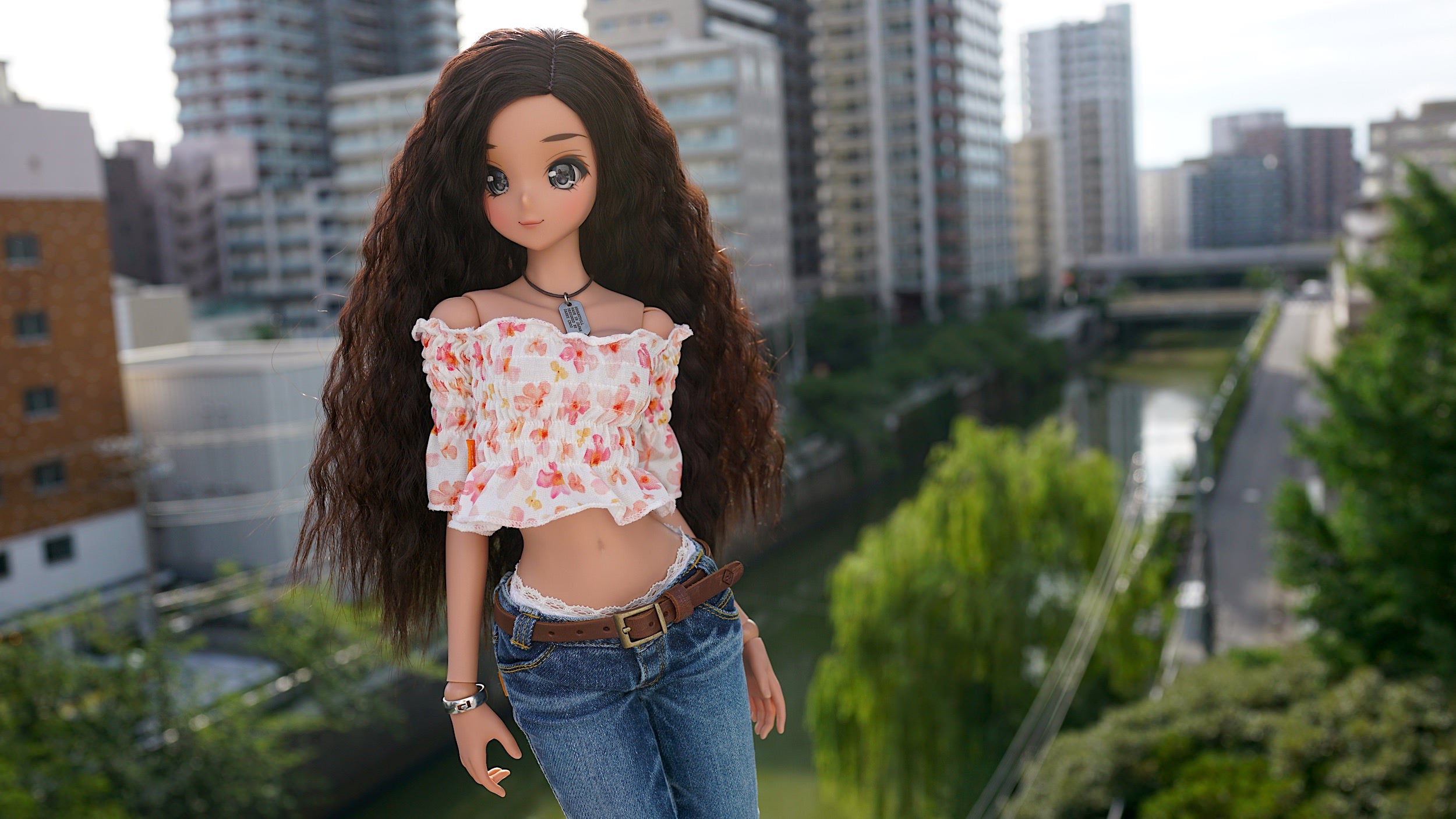 Split Bell Bottoms (Floral Tangerine)
Split Bell Bottoms (Floral Tangerine)
---