Hardshell Icelandic Jacket
Hardshell Icelandic Jacket
---
Release Date

発売日

- 2020/07/21

Made in Iwakuni Japan

日本産 (岩国)
---
---
2019年にアイスランドを訪れた際、うちの娘たちは撥水ウェアがなくて困っていました。そこで
@maruko_halu
さんと一緒にデザインしたのはこのジャケット。岩国産。
Introduction
Whenever you read guides on visiting Iceland and what to wear, you will more often than not see recommendations to bring waterproof gear. I thought to myself why this should be the case unless it's raining all the time but discovered why after
visiting Iceland in June 2019
.
I did indeed get a load of Patagonia waterproof gear and glad that I did - there are waterfalls everywhere! You don't even have to purposely visit one as you will eventually drive or walk by them.
But while I was geared up in a waterproof hard shell - my girls were not and they got soaked. I started to work with
@maruko_halu
 on a design that would look great with shorts and this is the result. First revealed
back in December 2019
, its taken 7 months of developing the workflow involved in what seems like a simple design.
The waterproofing fabric is slippery which made cutting challenging - the reason is because we need to stack the fabric so that we can cut multiple layers at the same time (depending on the item we need to make hundreds or thousands) - but the slippery surface of the fabric meant that it would start to skew while it was being cut. We eventually overcame this by putting thin paper between each layer.
Another issue was sourcing the small clip buckles which are challenging to get hold of. Given these reasons (actually more!) and the amount of time needed to produce this product, I'm not sure if we will do another run of the same design - it may come back in a different material or design but then again we may focus our resources on other products. If you want this product then get it now.
About the product
Pockets can be used to hide dollar bills away from parents or spouses - be careful not to tug too hard on the buckets as they could break.
There is a slot at the back of the jacket to enable you to attach the stand. The front can be zipped up but may be a tight fit depending on what you are wearing around the waist.
While this jacket material is waterproof - its not watertight - you wont be able to submerge your Smart Doll in water and not expect any part of them to get wet.
It's easier to take the hands off before sliding the arms through the sleeves. Goes great with the
Charcoal Shorts
,
Harness
,
Used CJ Tee
and
Gray Sports Bra
. Do note that the design is asymmetric. Made in Iwakuni Japan.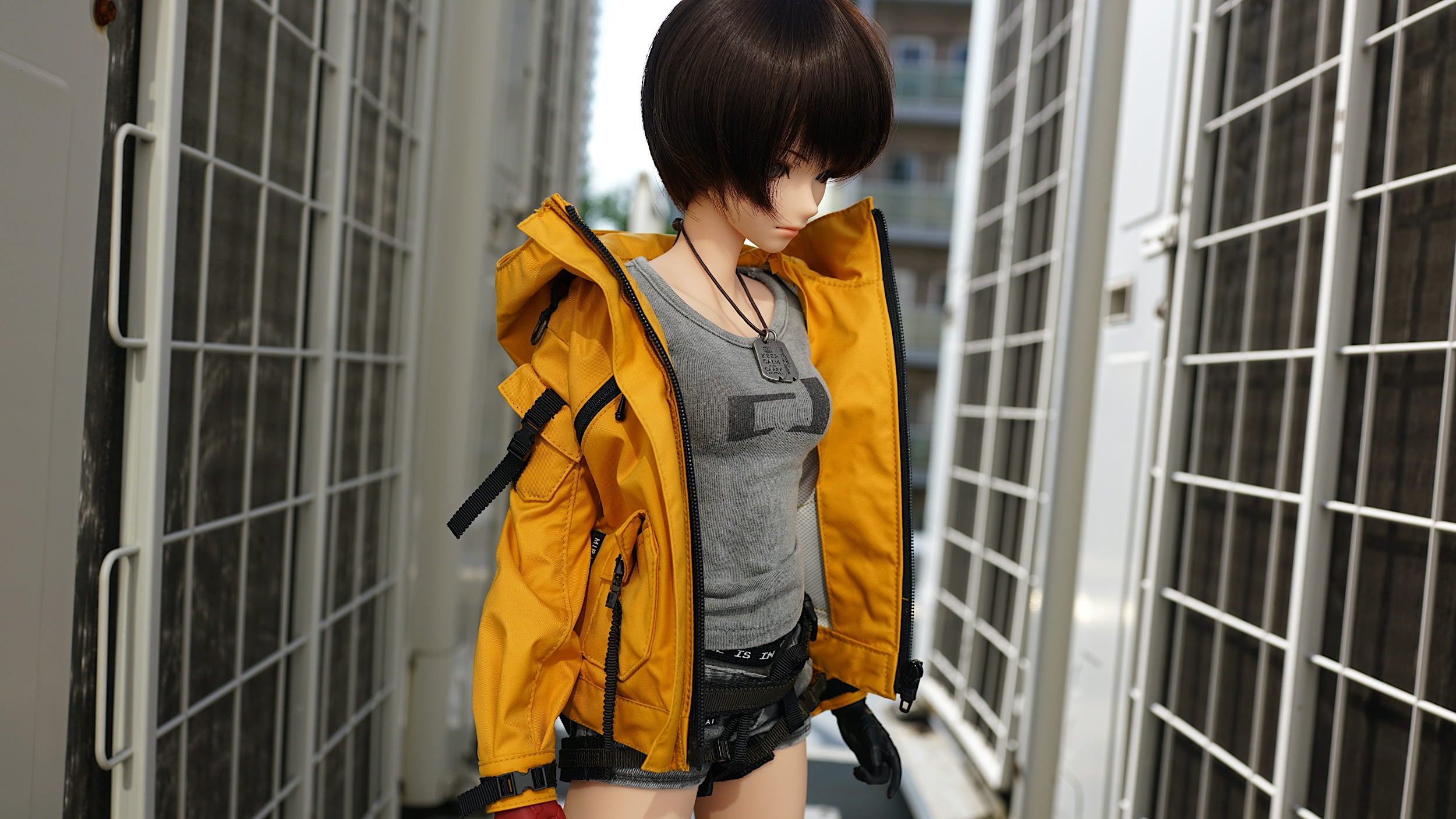 Hardshell Icelandic Jacket
Hardshell Icelandic Jacket
---